Met: England shirt pub ban is just a myth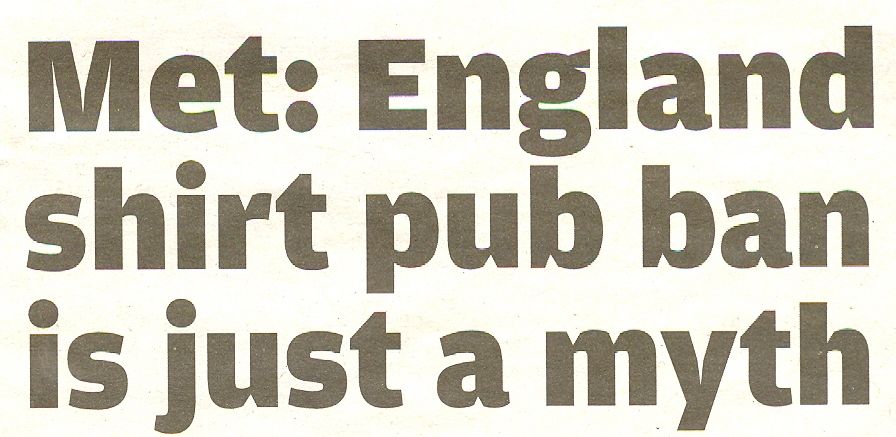 Some licensing authorities and the police have imposed restriction in the face of possible disorder surrounding the World Cup, with restrictions on capacity and curbs on tournament linked promotion. However these have largely been a response to local issues with crime and disorder rather than national policies.
The licensed trade has been looking forward to this injection of business for 2 years since the sudden down-turn devastated parts of the industry.
Many pubs and clubs will be promoting the games which are all on terrestrial television, advertising which are being shown at their premises. You can rest easy that the reports that a ban on England shirts, flags etc. in pubs and clubs was going to put into place are just a myth; spread in a social networking world where false information sometimes seems to travel at a speed, which we all wish our marketing could follow.
Remember that the new mandatory conditions which came into place in April ban the linking of alcohol promotions to the outcome of sports activities. So no promotions linked to goals scored, individual players achievements or any match related activity please.
Enjoy the world cup, enjoy the 'bounty' it should bring, be sensible with your promotions, but don't hold back from promoting the country; adorn your premises with flags, bunting, posters, chalkboards and make it well known that the world cup can be watched in a safe and friendly environment; and in your countries national team shirt.
Let's hope the team do well and go a long way in the competition. Come on England!… and Brazil, Spain, North Korea, South Africa, Australia etc… (remember there is valuable income to be made from the many different communities throughout the UK, don't let your allegiance limit your business).
To view the original article please Click Here
Source – Metro 
Date – 25th May 2010