Are you prepared for the two new Mandatory Conditions?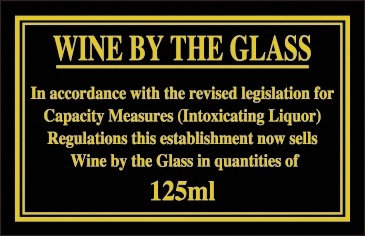 On the 1st October 2010 a further two mandatory conditions will come into force under the Licensing Act 2003 in England & Wales through an amendment by the Police and Crime Act 2009.
These come in after the three New Mandatory Conditions which came into force in April 2010.
A Mandatory Condition is one which applies to any premises licence or club premises certificate in England or Wales. The condition will not necessarily appear on your licence, but it will still apply.
Age Verification Policy - Every premises licence holder must ensure that an 'age verification policy' applies to the premises in relation to the sale or supply of alcohol.
The 'age verification policy' will dictate the minimum age at which a person can purchase alcohol (this must be 18 years of age or above) and requires any person who appears to be under the specified age to produce a valid identification document which shows their date of birth.
The validity of identification documents should also highlighted in your policy, which should determine the nature of acceptable documents; our advice is to stick with Drivers Licence, Passport or Proof of Age Card with a PASS hologram.
We would recommend that premises continue to use either the Challenge 21 or Challenge 25 policy they already have in place and absorb this into their new 'age verification policy'. As a general rule we have long recommended Challenge 21 for the on-trade and Challenge 25 for the off-trade.
An 'age verification policy' does not need to be overly complicated to be effective, the simpler the better. Our 4 step process is the cornerstone of our existing Underage Sales Policy (21) and Underage Sales Policy (25)
Smaller Measures – The last of the mandatory conditions concerns the provision of smaller measures being offered and providing notice of their availability.
In its simplest terms this means that all alcoholic drinks must be available for purchase in single /small sizes:
Still Wine 125ml
Spirits (Gin, Whisky, Vodka, Rum) either 25ml or 35ml
Beer & Cider in half pints
You not only have a duty to make these drinks available in these sizes, but to give notice that they are. This can reasonably be done through your price lists and other existing marketing tools. It is also a good idea to make sure you staff are trained and aware of all mandatory conditions so they can act within the guidelines and make customers aware of the measures in which drink are available.
A slightly extended version of the old Weights & Measures Act sign indicating what size drink are served in might also be a good idea.
Smaller sizes do not apply to sealed containers.
As with all new conditions we are still waiting for further clarification from the Home Office & DCMS as well as test cases from the courts, which will undoubtedly follow; for now we are able to offer you our guidance based on our experience and advice from other sector experts.
We expect (hope) that common sense will apply and for example wine will only need to be served in smaller sizes where it is served by the glass; i.e. if you have an extensive wine list and serve five different wines by the glass and the rest only by the bottle, it is these five which will have to be available in 125ml glasses.
However I would expect that if you only sell wine by the bottle for consumption on the premises, you will have to start making wine available by the 125ml glass.
Although these smaller measures apply you can still sell in larger measures as well, the smaller ones just have to be available; make sure you go out before the 1st October and buy suitable glassware.
We will keep you updated with further details on both these mandatory conditions as further guidance is published.
Source – Beyond The Blue Training & Consultancy
Date – 20th July 2010
Submitted by – Peter Mayhew