Lights go out at clubs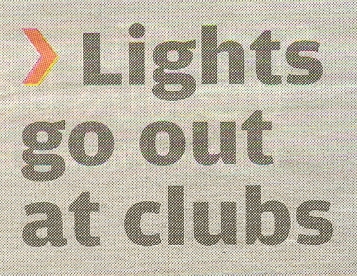 It has been a bad few years for nightclubs, who have been struggling on many different fronts and this latest report which suggests that 13% of late night clubs have closed in the last year should come as little surprise.
The recession, smoking ban, higher costs, cheap supermarket alcohol, pre-loading and late night pubs are just some of the reasons given.
That 355 nightclubs closed in a year (13 a week) alongside the well reported higher number of pub closures, paints a sad picture for the industry.
The fact is, the late-night economy is struggling with even some big names closing their doors. It is not about to get any easier, with a renewed assault on the late-night economy by the government's latest proposals (more information will be published shortly on this blog) to reform the Licensing Act.
But it is not all doom and gloom, there have been a number of very high profile openings this year in the hospitality sector and it is still very possible to launch and run a very successful business. However the days of complacency are well and truly behind us and only those businesses which can adapt, provide the very best service and reach out to their target market will succeed.
To view the original article Click Here
Source – Metro 
Date – 18th July 2010
Submitted by – Peter Mayhew