Mephedrone Ban Blamed for Rise in Cocaine Deaths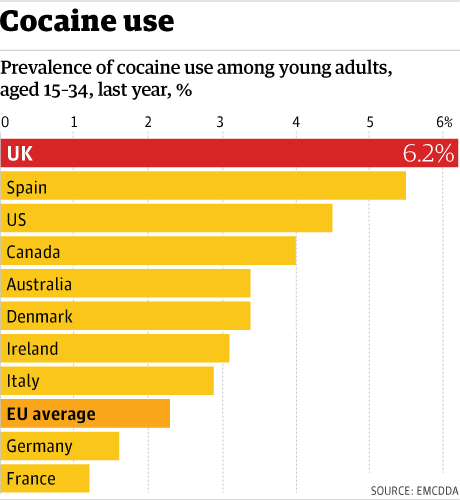 It is a very odd to look at drug use and the harm from drugs, by comparing the rise in the use of a relatively new drug in the form of Mephedrone, where relatively few reliable statistics exist and the fall in the level of deaths from Cocaine.
This report suggests that the fall in Cocaine deaths from to 66 in the first 6 months of 2009, down from 95 the previous year, could be due to the increase in the use of Mephedrone; which at the time was 'legal'.
There are so many variants in these comparisons as to make them relatively worthless. The problem is that it is very difficult to quantify the number of drug users and the quantity of drugs used which is really the only reliable way of quantifying the migration, if any, from the Mephedrone to Cocaine.
We should not get complacent thinking that the problems associated with cocaine use in the UK are diminishing. Only a few weeks before these statistics were released others showed the UK was top of the EU cocaine league with 15% of 18 to 34 years olds having tied the class A drug.
For the purposes of the clients we work with, both of these illegal drugs are still a real concern and cause challenges which if left unchecked can have a severe impact on reputation, problems with licences and additional costs for the business.
To view the related article - Click Here & Click Here
Source – Independent & Guardian 
Date – 24th & 11th November 2010
Submitted by – Peter Mayhew
At Beyond the Blue we deliver professional Training and Consultancy Services. Anyone interested in this blog post may find the fowing pages from our website useful:  
For more information on any of our services, please call us on 01784 434 392 / 0845 602 55 95 (low call rate from UK landlines) or Contact Us.