Sir Richard Branson Observes Beyond the Blue in Action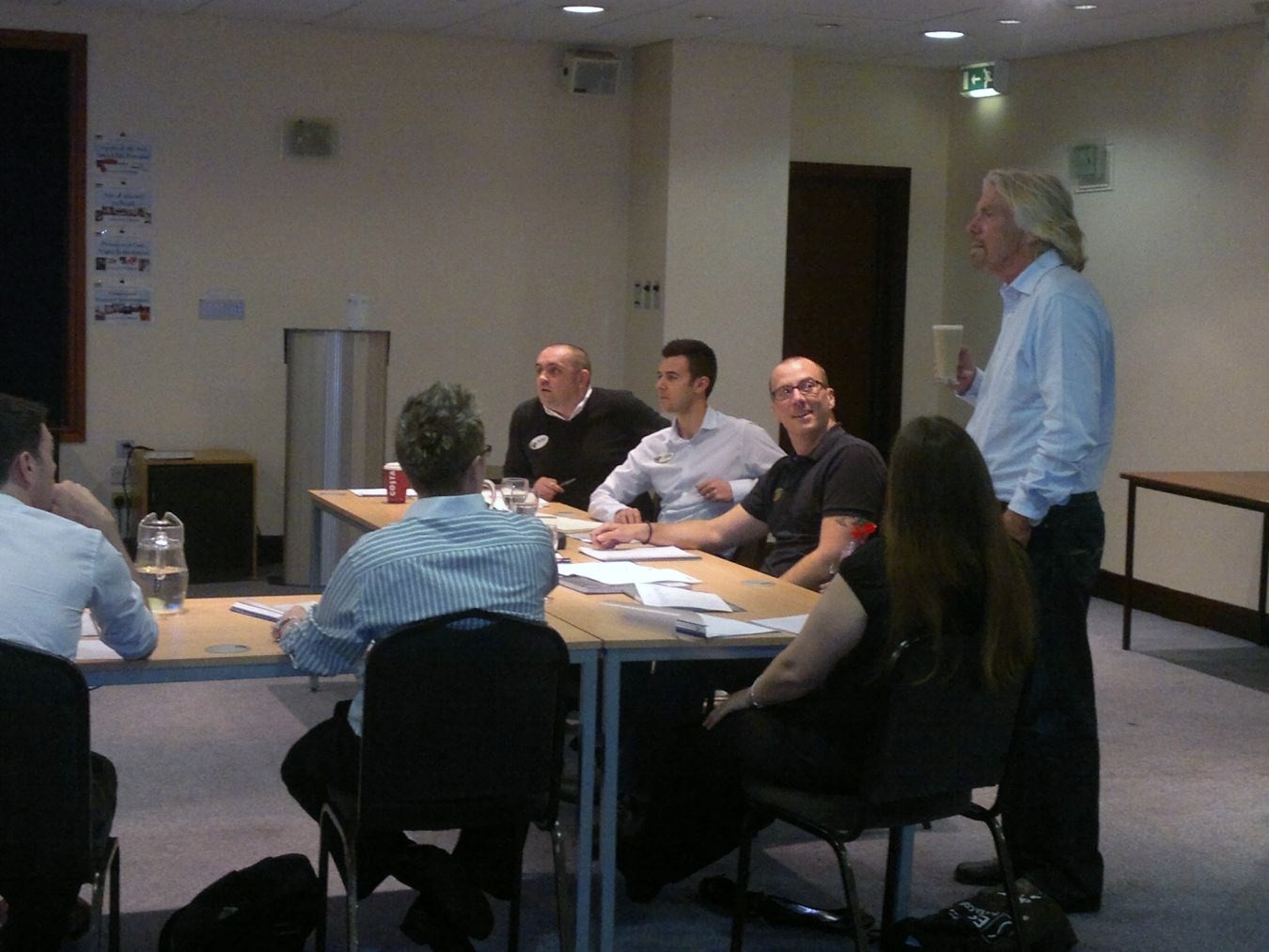 The Virgin Group Chairman Sir Richard Branson took time out of his busy schedule to speak with some of his team who were attending a course with us at Beyond the Blue.
The inspirational entrepreneur demonstrated again why working for the Virgin Group is the aspiration of many, as he took time during a visit to speak with managers attending our course at the newly acquired Esporta (soon to be rebranded Virgin Active) Health Centre in Coventry; the Warwickshire Health Club.
We were pleased to be able to welcome him and his daughter Holly during our course, as he chatted to learners attending while enjoying a coffee.
Richard Branson and the Virgin Group of companies have always approached new business in the same way; they take on the established companies whose products & services we are all familiar with (airlines, health clubs etc.) and achieve success by breaking the mould; simply put, being better than the competition. This drives loyalty both from employees, who love working for the Virgin Brand / Boss and from customers who value the consistently high service they receive.
At Beyond the Blue Training & Consultancy we have a similar approach to our customers, who we value above all else. It is this approach which results in us retaining our clients, including many of the country's most recognised organisations; Virgin Group, Sofitel, Mandarin Oriental, Squires Garden Centres, Local Authorities, NHS Trusts, Swissotel, Vinopolis, BlackRock, ExCel London, National Army Museum, Royal Horticultural Society, Black & Blue Restaurants, BaxterStorey, Compass Group and so many more.
Here are just a few of the reasons our clients choose us and keep coming back:
We Don't:
Compete on price with 'tick the box' training companies; 'tick the box' training does nothing to improve the knowledge of those attending and will harm your business in the longer term.
We don't take bookings for third party providers; when you book with Beyond the Blue, you get Beyond the Blue.
Cancel open courses if we fail to attract enough candidates; once you've booked, we deliver.
Stand still; we are always looking to improve our services and update training courses regularly.
Quote you an initial price and then add, add, add at every stage of the booking process; all our fees are openly available on our website and very transparent, course fees are always quoted inclusive of all tuition, handbooks, course handouts, examination and certification.
We Do:
Offer great value and deliver great service.
Deliver exceptional training; which allows learners to return to their workplace well informed and with recognised qualification.
Only use our own experienced trainers and consultants to deliver services; they are all experts who have access to the latest information.
Value all our clients; and deliver the same high standards of service to all.
Go further; once we have worked with a client we are happy to offer an after-service and assist them wherever possible.
Always act in the interest of our clients; we are open, honest and transparent; we don't employ a separate sales force to push you into purchasing services you don't need or want.
Have the appropriate accreditation; Beyond the Blue is a BIIAB Grade 1 Approved Provider. The BIIAB describe Grade 1 as 'demonstrating outstanding quality systems'.
Have very high pass rates for BIIAB examinations; over 98.5% for courses to date in 2011.
Get great feedback from those attending our courses; and publicise our excellent success rates.
Seek to innovate; always looking for ways we can assist our clients going forward.
Always try harder to do better
For more reasons why clients choose Beyond the Blue please visit the Why Choose Beyond the Blue page of our website and the Testimonials page.
Beyond the Blue Training and Consultancy are very proud to count the Virgin Group amongst our clients.
Source – Beyond the Blue Training & Consultancy 
Date – 10th October 2011
Submitted by – Peter Mayhew
At Beyond the Blue we deliver professional Training and Consultancy Services. Anyone interested in this blog post may find the following pages from our website useful:  
For more information on any of our services, please call us on 01784 434 392 / 0845 602 55 95 (low call rate from UK landlines) or Contact Us.