Springsteen and McCartney Gig Shut Down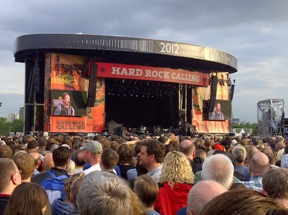 Bruce Springsteen headlined the Hard Rock Calling Hyde Park Festival on Saturday night, only to be cut off before the concert had come to an end; as far as he was concerned.
After over three hours captivating the 100,000+ audience with renditions of his hits spanning five decades, 'The Boss' had one final surprise up his sleeve, as he welcomed another legend, Sir Paul McCartney to join him on stage.
Together they played two songs to an enthralled audience who sang along word for word, lapping up the chorus of 'shake it up baby… twist & shout…' for what seemed like an eternity; and as it turned out it had lasted a little too long.
By this time it was 22.40 and it seems the organisers got a little nervous and decided the only way to end an evening that clearly Springsteen and McCartney were enjoying, was to turn off their microphones. Bruce Springsteen had after all already told the crowd 'I've waited 50 years for this' as he introduced the ex-Beatle to the stage; I'm sure this didn't fill the organisers with confidence that he would shut it down himself.
Much to the confusion of the crowd, suddenly nothing could be heard, the big screens showed both McCartney and Springsteen talking into microphones, but with no sound; the show had been ended. Even as the band was leaving the stage, there was one final attempt by 'The Boss' (a reference to Bruce Springsteen, used by his fans) to speak into the microphone and thank the audience, but even that was not permitted.
As a member of that audience it left me rather flat at the end of an amazing concert and that was the feeling shared by most of the crowd, as we all streamed out of Hyde Park, frustration but no real anger; it's difficult to be angry after over three hours enjoying one of the world's great performers.

So what happened?
Westminster council have said that this was a decision of the event organisers to comply with their 'curfew' and by curfew they mean 'premises licence'.
The guitarist of the E-Street Band who play with Springsteen, suggested by twitter that the 'English Cops' cut the gig short. This seems unlikely, as although they may have expressed concerns, they would be all too aware that cutting off a show so abruptly, can easily lead to disorder and violence. The police would be much more likely to seek to deal with such an incidence retrospectively; however they would be aware of the dispersal procedure for 80,000 people, which includes road closures.

Hard Rock Festival Licence
The licence for the Hark Rock Festival in Hyde Park London is granted to 'Live Nation (Music)' by Westminster City Licensing Authority, their job is to manage the fine balance of allowing London to host events worthy of such a great city and the rights of the residents and businesses in the area.
Residents and businesses have a right to expect some say in what goes on in their area, especially when 80,000 people will be flooding their neighbourhood on a frequent basis. Not only is the event itself obviously very loud (all day), but so many people leaving at once causes traffic chaos, litter and a noise for a long time after the event has ended.
A resident of the areas surrounding Hyde Park has a right to expect the rules to be enforced. If a neighbour anywhere has a party going on next door to them four nights in one week, we would expect the council to act to resolve the situation. That resolution does not mean necessarily saying you can't have parties, but that some compromise should be reached.
Once a compromise has been reached and the middle ground identified, neighbours have the right to expect that compromise to be respected. In other words we'll tolerate the party providing the limitations are respected, if not then the compromise should be reviewed or scrapped completely in favour of those being disturbed.
In this case the compromise is rather more formal and called a Premises Licence.

What choice do the organisers of such an event have?
It's a tough decision for the organisers of such a big event. Handling this kind of situation is not made easier by having not one legend, but two on stage at the end of the gig; probably the only time these two rock 'n' roll greats will ever play together on the London Stage.

Option 1 - Allow it to come to a natural conclusion
With Bruce Springsteen more than capable, when he is in the mood, of playing for nearly 4 hours and with the added motivation of playing with Paul McCartney, they had no way of knowing when the natural conclusion would have come. I have no doubt they also remembered the last time he played at Hyde Park, when knowing he was in breach of the 22.30 curfew, he announced to the audience words to the effect of 'now we're on Bruce time'.
Possible Outcomes
Fine of up to £20,000 or even 6 Months imprisonment for an Unauthorised Licensable Activity. Playing Live Music without a Licence (which after 22.30 they don't have) is unauthorised.
Review of the Licence for undermining the licensing objectives, this could result in further reduction in hours for future events, additional punitive conditions being added to the licence or revocation of the licence amongst other things. This licence had undergone a review as recently as late 2011 to seek a reduction in the number of events held each year and strengthen the conditions.
Large fines being imposed the Environmental Health Office, for exceeding pre-agreed limitations regarding noise emissions.
A strengthening of the already vocal opposition by organised residents groups, which includes some of the London's most recognised hotels.

Option 2 – Cut the amplification and end the event
This is the option chosen on the night, which cut all amplification and brought the event to a sudden and rather brutal frustrating end for all concerned.
Possible Outcomes
You keep the council and local residents on-side and have a good example of good practice to argue the case for future events and licences. By demonstrating commitment to meeting your obligation in the most forceful way, the event organisers show they are in control.
There is a possibility with such a large crowd of disorder and violence when the perception that their fun has been cut short by authority, there are many such cases which demonstrate this risk. Fortunately for the organisers with a mellow mature audience 35 and an artist who has already performed over three hours, it was on this occasion accepted with true British stiff upper lip.
Damage to the event organiser's reputation in the eyes of the paying public.
Bruce Springsteen may feel undermined and choose to avoid this venue or event in the future; or next time he might choose to start on time at 19.00 rather than half an hour late and thus finish naturally within the deadline.

Option 3 – Cut the music but allow Bruce Springsteen to thank fans
Could the organisers have used their discretion and cut the volume to stop the gig over-running any further, yet once instruments had been downed, turned one microphone on to allow Bruce Springsteen to thank the audience and the audience to properly thank him for an amazing night.
Possible Outcomes
This would have been seen as both a demonstration of the strength of the organisers to work within their licence and been acceptable to the audience and artists. In-fact the audience may have gone away happier than usual, as they would have felt like they got a little more than were really entitled to, with the length of the concert.
It would have topped off an amazing day for me.

This occurrence does make it clear that licensing law applies equally to the largest and smallest licensed premises equally. It demonstrates how critical it is for the licence holder to act proactively to protect future trading opportunities and to protect their licence.
Premises licence holder who act proactively act to protect their licence and their business and will generally do so successfully, those who push the boundaries and react to situation will generally find their businesses restricted further or face large penalties and further restriction on their business practices reducing their ability to generate income.
I can't leave this post without saying as a member of that audience, I was disappointed at the end, but the preceding 3 hours 10 minutes and 29 song set was Bruce Springsteen at his best; and with Macca throw in for a 10 minutes curfew breaking set at the end, it was (despite a very dissatisfying end) an amazing night. Maybe the headline of this piece should have read 'thank you to the organisers for holding your nerve for the additional 10 minutes despite the potential consequences, so I could witness Bruce Springsteen and Paul McCartney playing together.

Source

Author - Peter Mayhew is the Managing Director of Beyond the Blue Training & Consultancy. He delivers training courses and provides expert opinion on alcohol & entertainment licensing for individuals, organisations and public bodies. Peter is a frequent contributor to industry publications.

More News Stories from Beyond the Blue>>

For more information on any of our services, please call us on 01784 434 392 / 0845 602 55 95 (low call rate from UK landlines) or Contact Us.