99.8% Pass Rate for BIIAB Courses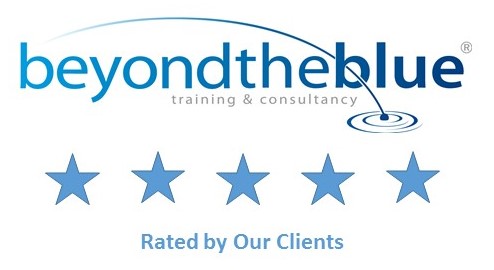 Throughout 2016 Beyond the Blue Training & Consultancy achieved a 99.8% pass rate for all learners who attended BIIAB accredited training courses which we delivered.

Having just reviewed all of the data from the past year (2016) we are delighted to announce that we have maintained (and slightly improved) our consistently high pass rate for BIIAB qualifications.

For more details on our exceptionally high examination pass rates please visit Choose Beyond the Blue as Your Training Provider >>


BIIAB Level 2 Award for Personal Licence Holders (APLH)

Not only did 99.8% of all learners pass their exams, but 98.3% of candidates attending our training passed the associated APLH exam at the first attempt.

We are exceptionally pleased that learners attending our Personal Licence Course in 2016 achieved an Average Exam Pass Score of 37/40; equivalent to an average exam score of 93%.

Personal Licence (APLH) Course Details >>


98.7% Positive Approval Rating

We are pleased to be able to publish our approval ratings for 2016; these show we received an Overall Positive Approval Rating of 98.7% from all learners who attended training with Beyond the Blue, across the whole portfolio of courses we delivered in 2016

We consider a score of either 4 or 5 as a 'positive approval rating'; a score of 3 as 'average'; 2 as 'Poor'; and 1 as 'Very Poor':

The following positive approval ratings were received for the core areas of:


'Course Content' – 99.4%
'Trainers Knowledge & Performance' – 100%
'Presentation of Information' – 98%
'Training & Examination Facilities' – 95.7%
'Accomplished Learning Objectives' – 99.6%
'Course Administration' – 98.7%
'Overall Courses Satisfaction' – 99.7%


100% Satisfaction Achieved

In the core subjects of 'Course Content', 'Trainers Knowledge & Performance', 'Presentation of Information', 'Accomplished learning Objectives' and 'Overall Course Satisfaction' we did not receive a single below average score1 throughout the whole of 2016.

1An average score is considered to be 3 out of 5; where 1 = Very Poor & 5 = Excellent.


Striving for Excellence

Overall only 0.14% of the scores received were below the average score of 3.

We always welcome constructive criticism and while we seek to deliver excellence for every client, we are satisfied that on average only 1 in every 700 of the scores received from people attending our training, suggest we are falling below average. This tiny number of below average scores are also all in the areas of 'Training & Examination Facilities' & 'Course Administration to Date'; both areas where we rely on external companies to provide services.

The below average scores reflect the very few individuals who legitimately founds our training facilities below average; for example, they were too cold or warm when we experienced problems with air-conditioning. We are however pleased that 99.86% of people rated our training facilities 3 (average) or above; 98.7% rated them at 4 or 5.

For more details on our approval rating and the individual areas in which we excel please visit How Learners Rate Beyond the Blue >>


Learner Feedback

The following comments are a selection of the feedback we received from learners in 2016. These provide an independent perspective and opinion from industry professionals who have benefitted from our training and services:


Amazing tutor, informative thorough and clear with a little humour. Really impressed with the course content, additional materials and overall flow of the day; would definitely recommend to others wishing to obtain a Personal Licence. Really enjoyed the experience. – Nimota Okunnu, Nim's Kitchen
Excellent range of knowledge, presented in a clear and confident way. Made to feel very comfortable. – Rhys McDowall, Dominion Theatre London
It was a thorough course and all the key information was professionally and clearly presented – Elin Sevou, Harrods
Very good, informative and well delivered. A lot of information for one day, but it was broken down into clear and constructive sections. – Jessica Wright, Really Useful Theatre Group
Really well taught and interesting. - Nicola Randall, Fever Tree
Great Course! Full of great useable information. Thank you! - Jemma Smith, Merlin Entertainments
Very well structured and easy to learn from. – Amy Lowe, View from the Shard
The trainer explained the content very clearly, with a lot of examples. – Aysel de Vries
This is a very well-constructed course, with complete and very illuminating information. Extremely well-presented, with a great blend of serious information and good-natured humour. – Nicholas Riddle, The Cloister Cafe at St Bartholomew the Great
Very impressed with the content of the course – for relatively short amount of time we covered a lot of content in good depth and examples given were really useful & relatable. Thanks! – Jennifer McBain, The Merchants Yard (Tideswell)
Very informative and I felt well prepared for the exam. Thank you. – Agnieszka Weeks, Squires Garden Centres
Great. Very informative and knowledgeable tutor. Was able to answer all questions with ease and clarity. – Tara Griffin, The Flour Station
Well informative and very well organised course. Trainer is very knowledgeable in his field. – Tauseef Khan, National Maritime Museum
Overall the course was beneficial. I found I gained a lot more knowledge from having the interaction of the course, rather than just the booklet. – Sarah Kelly
Peter was very informative and real life examples really helped make information relevant. – Lilian Kim
I was surprised how much I enjoyed the course and how interesting it was. – Tim Last, London Executive Offices
Efficient & Succinct. Knowledgeable trainer with all important industry experience. – Liam Hope, Clink Hostels
Very good content and presentation. Great to have high quality materials to take away. – Julian Ward, Southbank Centre
Impressed by speed of documents posted to me. Professionalism is obvious throughout the day. – Dawnetta Grant
Great training method, would recommend to anyone who requires a license. – Sanjay Mistry
A lot more interesting than I thought it would be. Thoroughly enjoyed the day. – Samuel Morris, Meantime Brewing Company
Very impressed with the knowledge, attitude and style of teaching of the trainer. – Tamer Habashy, Drake & Morgan
Day went really quickly, very knowledgeable trainer. – Sarah Matthews, Virgin Active
I was really impressed by how much information I absorbed and remembered, through his [the trainer] method and approach. – Mitsie Johnson, Etefy Limited
Peter was very professional, he went into interesting detail and allowed questions to be asked & answered thoroughly. Many thanks! – Natalie Stacey, Seven Strings Limited

To view more learner feedback comments please visit How Learners Rate Beyond the Blue >>


We would like to thank all of the clients whom we worked with in 2016 and wish them continued success in 2017.


More Information


Author - Peter Mayhew is the Director of Beyond the Blue Training & Consultancy. He delivers training courses and provides expert opinion on alcohol & entertainment licensing and conflict management & resolution for individuals, organisations and public bodies. Peter is a frequent contributor to industry publications.
More News Stories from Beyond the Blue >>

Your Comments

We welcome your comments on this article, please email us at info@btbl.co.uk. You can also comment through our Facebook Page, Linkedin Company Page or Twitter Feed.

Page Updated: 10th February 2017