Beyond the Blue Maintains 'BIIAB Grade 1' Approved Status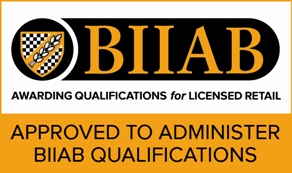 The BIIAB describe Grade 1 as 'demonstrating outstanding quality procedures', something we are very committed to.
We completed our annual approval process with the BIIAB today and once again Beyond the Blue Training & Consultancy was proven to have amongst the best quality assurance procedures of any BIIAB approved centre in the country. Alongside our Grade 1 Approved Training Centre status, we received very positive feedback from the BIIAB assessor on all the systems we have in place; not a single area was highlighted for improvement.
That is not to say we can stand still, we are continuously examining and improving our systems and training. We pride ourselves on establishing and cementing the highest standards, delivering excellence and providing the latest information, knowledge and techniques during our training courses.
The BIIAB is the leading awarding body in the licensed retail and licensed hospitality sectors, recognised by local licensing authorities, the police, home office and DCMS.
We always welcome approval visits from the BIIAB assessors as they demonstrate how effective our established systems are and provide our clients with the reassurance that they are working with (to quote a comment by a BIIAB assessor during an approval visit) a training centre which 'demonstrates some of the best quality systems I have seen at a BIIAB [training] centre'.
Source – Beyond the Blue Training & Consultancy 
Date – 27th June 2011
Submitted by – Peter Mayhew
At Beyond the Blue we deliver professional Training and Consultancy Services. Anyone interested in this blog post may find the following pages from our website useful:
For more information on any of our services, please call us on 01784 434 392 / 0845 602 55 95 (low call rate from UK landlines) or Contact Us.