Beyond the Blue Management Team
Our team of managers, trainers and consultants are professionals with a wealth of experience in their field.

We draw on their extensive knowledge to develop our training and services. Our trainers experience includes; licensed hospitality sector, the fire service, police, private security industry, entertainments industry, the ambulance service, environmental health, universities and international blue chip companies.

We would like to introduce you to a few key members of our management team:


Director – Peter Mayhew

Beyond the Blue Training & Consultancy was established by Peter to bring together an impressive set of instructors and experts with the aim of providing the highest standards of training and consultancy services to our existing and new clients.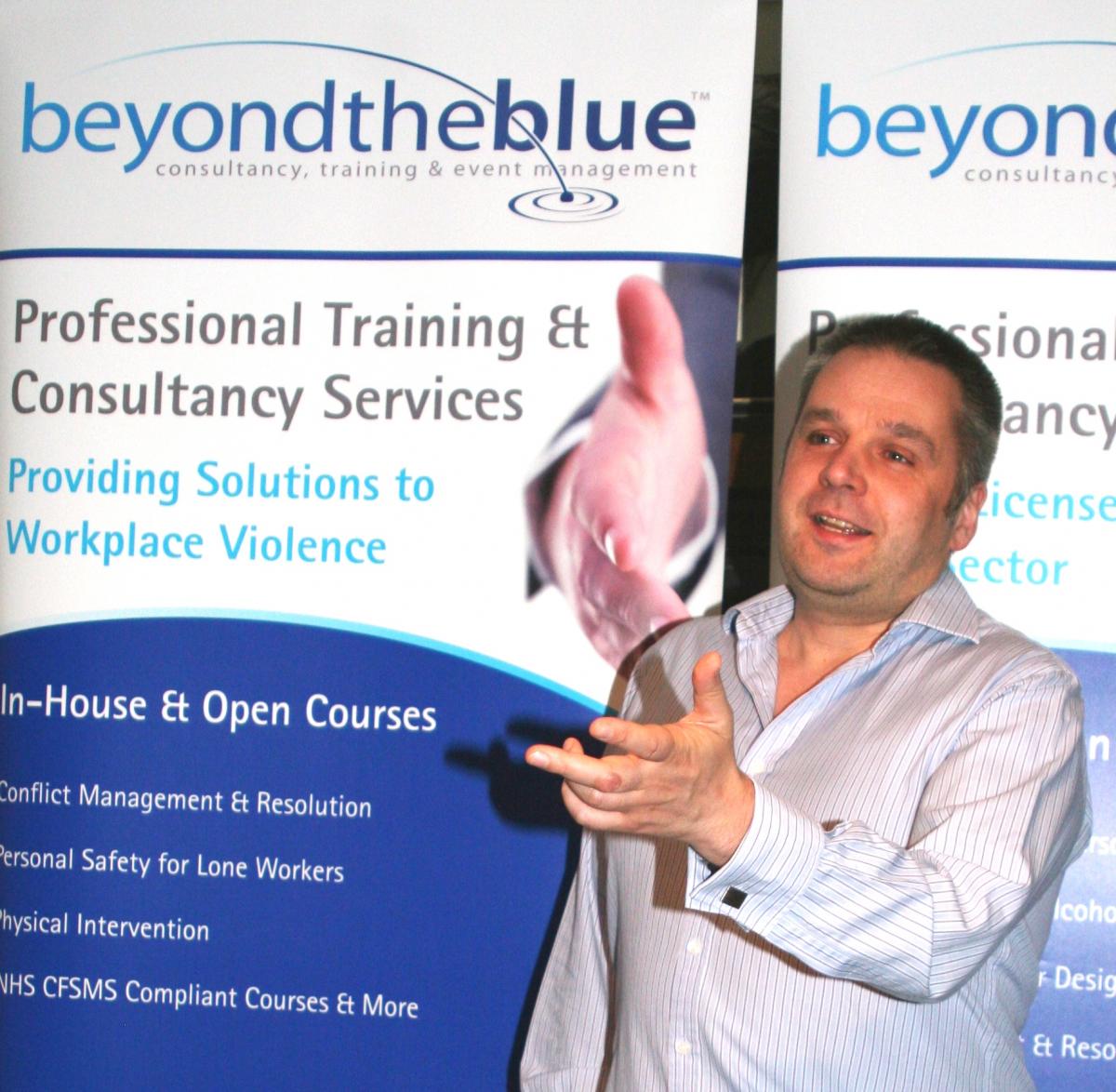 Peter has 25 years of experience in the licensed hospitality sector, the security industry, in providing solution to workplace violence & event management; he has always insisted in playing an active role when it comes to training, developing workplace systems and managing events.

Throughout his career, he has been instrumental in changing attitudes as well as the methods used to train employees and help them to develop professional skills while maintaining a focus on exceptional customer service levels.
Developing new innovative systems and training programmes is his speciality. For example, he developed training programmes in Conflict Management and Resolution and demonstrated the benefits well before it was made mandatory by bodies such as the Security Industry Authority (SIA) and the NHS SMS.

Peter has an in-depth knowledge of licensing law; he played an integral role at local level in both the interpretation of the Licensing Act 2003 as well as the Security Industry Act 2001. His in-depth understanding of current legislation allows him to provide clients with informed advice and training based on current interpretations.

This expertise is also demonstrated in the successful Licensing Consultancy Services offered by Beyond the Blue and the professional representation delivered for Licensing Committee Hearings, Licence Review Hearings and other statutory licensing processes.
In 2009 he was asked by the Association of Town Centre Managers to become one of the first Lead Assessors for their ground-breaking 'Purple Flag' scheme; a national initiatives which assesses the management of the late night economy across the UK. In 2012 he was asked to take that scheme's first international assessment in Dublin, Ireland.
Peter delivers much of the training and provides many of the consultancy services on behalf of Beyond the Blue himself. His knowledge base is reflected in the approval ratings he receives in feedback, which consistently rate him as 'excellent'.

Contact - Peter Mayhew 01784 434 392 or Send Peter an Email >>

Non-Executive Director – William Groombridge
William brings a wealth of experience to Beyond the Blue having worked extensively in a number of our key sectors.
His role as a non-executive director of the company is to provide oversight and assist with the company's strategic development. He uses his professional expertise to help build on existing training and services offered by the company.

With his background in the security industry and in providing solution to workplace violence, he is ideally placed to deliver professional solutions for our clients.

Contact – William Groombridge 01784 434 392 or Send William an Email >>
Senior Conflict Resolution & Physical Intervention Trainer – Roger Gould
Roger Gould brings a wealth of experience to the training courses he designs and delivers. With a CV dating back over 35 years, his knowledge and understanding of the subjects he trains, is a catalyst for good learning amongst candidates attending his courses.
Roger joined the Metropolitan Police in 1974 served for 26 years in many different capacities and achieved many specialities. He was awarded the Chief Superintendents Commendation on several occasions.
During his time in the police Roger specialised in areas including; advanced driving and motorcycle, surveillance, evidence gathering, armed response, physical training instructor, riot trainer, quick-kuff and rigid baton instructor, officer safety trainer, manual handling trainer, armed counter terrorist officer and trainer (including firearms tactics, batons, rigid handcuffs and CS spray), amongst others.
Since leaving the Metropolitan Police Roger has brought his skills into the private sector working for several organisations providing training, management and consultancy services. The training he has developed and presented have a varied from defensive driving techniques, personal safety in the media sector (for camera crews and reporters going into hostile environments), physical intervention and conflict management and resolution.
His expert opinion remains in high demand and he provides professional advice to a number of high profile clients, as well as bodies such as the SIA, the Police, the Institute of Conflict Management and a number of accrediting organisations within the security industry and the licensed retail sector.

Beyond the Blue were delighted to secure the services of such an experienced individual as our Senior Conflict Resolution & Physical Intervention Instructor. Roger bring with him 26 years of experience both as a police trainer and active police officer, as well as 13 years delivering training in the private sector to organisations including the NHS, local authorities, Royal Parks Police, local authority community support officers & wardens, licensed retail sector and private security industry.

All his experience coupled with a great sense of humour, an ability to communicate effectively with people on any level and the capacity to enthuse those he is training with the subject matter, make him a very positive asset to not only us, but also for all of our clients.

Contact – Roger Gould 01784 434 392 or Send Roger an Email >>



Food Safety and Health & Safety Consultant – Tina Evans

Tina has 15 years of experience designing, delivering and assessing training in food hygiene and health and safety.

Tina has extensive experience ranging from the education sector to large blue chip companies and has been instrumental in helping organisations to raise and maintain high safety standards.

Contact – Tina Evans 01784 434 392 or Send Tina an Email >>


Employment Opportunities
There are currently no full time vacancies at Beyond the Blue Training & Consultancy.
We are however always keen to hear from qualified instructors and if you are experienced, professional, dynamic, focussed and have the ability to deliver exceptional customer service, then please send us a CV and covering letter. We maintain these on file and if a suitable opportunity arises in the future we may consider those submitted.

We are currently interested in people who have the required qualifications and experience of delivering licensing courses; especially the BIIAB Level 2 Award for Personal Licence Holders (APLH) Course. We are particularly interested in hearing from people who come from a local authority (licensing) or legal background.

Our appointment of trainers is strictly on a freelance basis. These opportunities are ideal for existing freelance trainers looking to expand the number of employers they work for.
Beyond the Blue Limited is an Equal Opportunities employer. Applications are welcome from all sections of the community.
Contact – Peter Mayhew 01784 434 392 or Send Peter an Email >>



For further information please call 01784 434 392 / 0800 066 55 24 and speak with one of our Consultants.


Additional Information

• BIIAB Level 2 Award for Personal Licence Holders (APLH) Course • Licensing Consultancy Service • Conflict Management • Conflict Management & Resolution Course • Personal Licence For Lone Workers Course • Why Clients Trust Beyond the Blue • Testimonials • Our Clients • Approval Ratings & Learner Feedback •
Page Updated: 18th January 2017